HI VISITOR!!!! c:

Some nicknames/names i hav been called ONLINE are Miki and Keki-chan.
Kukki welcomes u today (:
she thanks u for visiting this page today c:

I REALLY LUV making friends! Feel free to talk to me by note or comments, I will find the time to respond to you! c:

Here's just a little bit of information about me..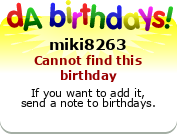 Top 3 Favorite Colors: Sky Blue, Green, and Dark Blue
Likes: Drawing, manga, anime, ice cream, badminton, j-pop music, having fun
Favorite Singer: Gumi
Anime i watched and liked: Sword Art Online, Fullmetal Alchemist, Toaru Majutsu no Index, Toaru Kagaku no Railgun (A certain scientific railgun), Ouran High School Host Club, Kobato, Black Rock Shooter, Kokoro Connect and more!
Anime i recently watched and finished: Free, Attack On Titan, and more that i don't remember at the moment
Anime i hav been recently watching:
Kyoukai No Kanata, Kuroko No Basuke 2, Kill la Kill







</div >